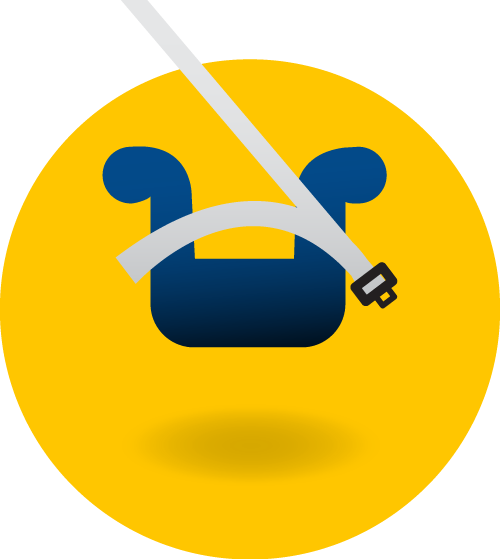 Transitioning from a forward-facing seat to a booster
Remember:
Always use your forward-facing car seat to the maximum height or weight limit before moving your child to a booster seat. Always follow the age, weight, height and other guidelines provided by the car seat manufacturer.
Seat belts are made for adults. A booster seat protects children that are too large for a forward-facing car seat but too small for a seat belt. Watch this video.
A booster seat "boosts" the child so that the seat belt can fit across the strongest bones of the body.
Why Children Should Be In a Booster Seat Until the Seat Belt Fits Correctly
A child ready to use an adult seat belt without the aid of a booster seat will be around 4′ 9″ tall. Please keep in mind that because children do vary in size by age, some children could still need a booster seat at the age of 10 or 11.

After the age of 5, fatalities for unrestrained children continue to increase through age 19. In addition, the rate of misuse of these life-saving devices is shown to be approximately 84 percent. (Utah Highway Safety Office)

Restraint use for children driven by a belted driver is higher (92 percent) than for those with an unbelted driver (54 percent).

Booster seats "boost" children up to allow proper fit for the lap and shoulder belt. This also makes it easier for them to see out of the window better.

Older kids get weighed and measured less often than babies, so check your child's growth a few times a year. Generally, kids need to use a booster until they are about 4′ 9″ tall and weigh between 80 and 100 pounds.
Selecting The Correct Booster Seat For Your Child
Basically, there are two types of booster seats: high-back booster seats and base booster seats. However, there are many styles of booster seats on the market for parents to choose from. Carefully study the different booster seats available to find the one best suited for your child and your vehicle. Also, be sure to read your vehicle owner's manual for information on boosters in your vehicle. Always follow the age, weight, height and other guidelines provided by the car seat manufacturer.
This type of seat helps prevent whiplash in children who ride in vehicles without back-seat head restraints

Provides head restraint and a guide that helps keep the shoulder belt in place and more head protection for younger children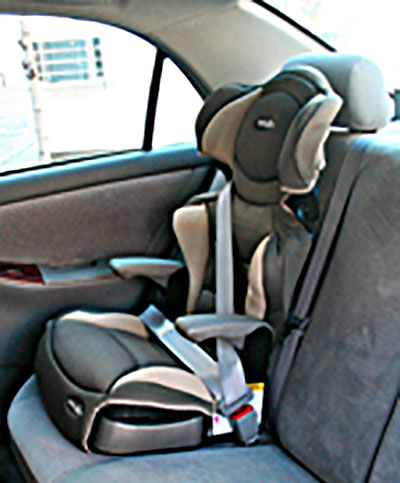 A base booster, also called a backless booster, is very inexpensive and is often preferred among older children because they look less like a car seat.
Some base boosters are built into vehicle seats.
In general, children must be at least 40 lbs. before they can safely use this type of booster seat.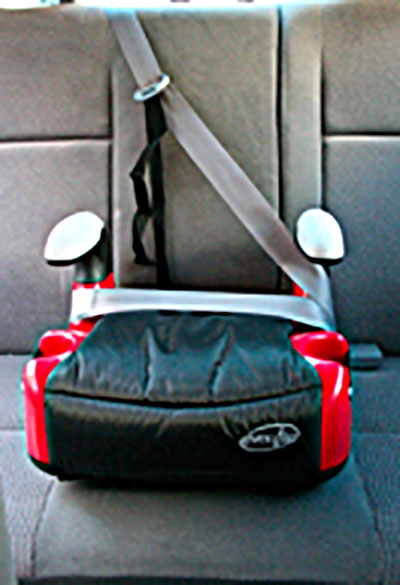 Installing a Booster Seat
Always read and follow your booster's seat instructions.

ALWAYS use a lap and shoulder belt when placing your child in a booster seat.

When using a backless or no-back booster seat, the child MUST sit where a head restraint is available in order to prevent whiplash or other head and neck injuries.
Booster seats MUST be worn with a lap and shoulder belt. NEVER use a lap-only seat belt with your booster seat.
Place the lap belt low over your child's hips. The shoulder belt must come across the middle of the chest, and not across the neck or face.
The shoulder belt should never be worn under the arm or behind the back.
The child's ears should not be above the back of the vehicle seat or top of the head restraint when sitting on the booster seat.
Children should be in a booster seat until  the seat belt fits them correctly, usually 4'9″. Follow this step-by-step test to see if your child fits the seat belt correctly.
It is recommended that children under the age of 13 ride properly restrained in a back seat.

If a child younger than 13 must ride in the front seat, the child must be correctly restrained by the vehicle's lap and shoulder belt and the vehicle seat must be moved back as far as possible from the dashboard.

Turn off the front passenger's airbag for young front-seat passengers.

Click here

for information on airbags.

When the booster seat is not being used, always buckle it in place. In the event of a crash, any loose object, including a booster seat that is not secured, can fly around the car and seriously injure or kill a passenger.